I owe a big thanks to Corey for emailing me this news.
There was a HUGE announcement at Wizard World Chicago today....Joe Madureira is coming back to comics to do a project for Jeph Loeb and Marvel! During the Joe Quesada 'Cup o' Joe' panel it was announced that Jeph Loeb (a popular writer) just signed a contract with Marvel that begins on September 1st. Jeph is known for his work for DC on Batman: Hush with artist Jim Lee, the Batman/Superman comics and his ongoing series for Supergirl.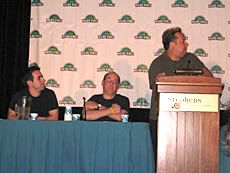 Joe was asked if he was exclusive to Marvel or just on board for this unnamed project. "It's just this one thing," he replied, "but there's a lot more to talk about." During the announcement they showed Joe's newest comic cover for
House of M
featuring Wolverine, Spider-Man, and Hulk. They gave away posters of the cover at the event also.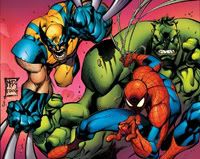 Jeph Loeb hinted that his and Joes new project probably will have something to do with one of the three characters. This begs the question, will Joe finally fulfill his dream of drawing a Spider-Man comic? I've got my fingers crossed!
Here's another tid-bit from
comic book resources
:
Madureira was asked if he'd ever finish "
Battle Chasers.
The artist seemed disappointed that it never finished, but is content to let the book toil for now. "It's one of those things that I think about every once in a while, and not having finished it bums me out... I would love to do it at some point, but it would be very far out." Where has the artist been in the interim? Working in the video game industry as an art director, Madureira said. Most of the work he's done in the past couple years will probably never be seen, he said, unless it gets collected into an art book. But he did say he believes he's learned some
new tricks"
while he was away.
I hope everone is excited as I am about this news! When more information about the project becomes available expect to read about here as soon as possible.