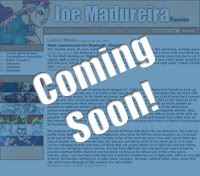 I have some great news for all you Joe Madureira fans out there! I think I've found a host for the site. The host isn't charging very much a month so I think I'm going to start paying for a 300 MB data/10 GB bandwidth Hosting service for the Joe Madureira Site. If the bandwidth exceeds the 10 GB a month then I'll have to pay about twice as much so hopefully hosting tons and tons of Mad! art won't kill the site every month.
I have the layout all done and am working on the content part of the site right now, I think I'll release the site as soon as possible and just take my time with the content.
Oh yeah, I think I'm going to call the site Joe Madureira Online instead of the Joe Madureira Fansite. What do you guys think?
Expect it to be up in the next week or so! I'm really excited to get this going and I hope you are too.